Mickey's Magical Fireworks & Bonfire 2013 at Disneyland Paris.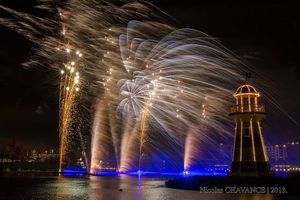 Enjoy now, this wide shot version of this amazing extravaganza. On the 4th, 6th and 8th November 2013. Sparks fly and and a huge fire blazes, all amid the most extraordinary fireworks you have ever seen. Watch in wonder as the night sky above Lake Disney®
lights up in an eye-popping explosion of fireworks, special effects and music. Add to all this drama and excitement, a special appearance by Mickey Mouse himself.
Equipe : Laurent, Guillaume, Cédric, Vivianne, Philippe, Samuel
Système de Tir : VegaElec XL3
Thème : Mickey's Magical Fireworks
Particularités : 4 pontons sur le lac et 3 postes a terre, tir HF
Partager cet article